Branch Blog - New York, NY
Mon, August 01, 2011 • Beyond the Palin
Happy belated birthday to America, George M. Cohan, Franz Kafka, and me!
Earlier this month, our nation had its Independence Day, and we at Dr. Sketchy's Anti-Art School celebrated with a session featuring Tony Apollo as Sarah Palin and Chicava HoneyChild as Barack Obama. This presents a challenge for me, since Obama is not particularly funny, and, after 3 years, I have kind of run low on humourous observations about Sarah Palin and her vestigial brain. So, in the interest of environmentalism, I will be recycling jokes. To accompany Kate Black's photographs of the event, I will be including Polish jokes that I have reworked to be relevant and topical in today's political climate. For instance:
Why doesn't Sarah Palin use a vibrator?
It chips her teeth.
How can you stay mad at that face?
Sarah Palin once got frostbite standing outside an Alaskan cinema. She was waiting to see the movie "Closed for Winter."
Nuh-uh, girlfriend!
What did Sarah Palin say when Bristol told her she was pregnant?
"Are you sure it's yours?"
I think this photo was taken when Godzilla started attacking the back of the club.
One time, Sarah Palin locked her keys in her car. It took her two hours of struggling with a coat hanger to get her family out.
Because we are populists at heart, here are some photos of the common people at the session. And just like in American politics, the common people will be mentioned and then immediately ignored.
Two American workmen were digging the foundations for a new road. After several hours, one of them hits his shovel on something hard in the ground. The two dig the object out and discover that it's a treasure chest filled with gold and jewels. One says, "We should share this treasure, as the wealth is shared in this great nation," and the other says, "Oh no, 50 - 50"!
I'm not sure if the hand-holding here represents begrudging cooperation or the knife fight from the video for "Beat It."
The Tea Party was getting really pissed off about the government so they decided to stage a march on Washington. When last heard from they were 10 miles out of Seattle.
Before you criticize, just look at that ass! It is asking for it!
Sarah Palin walked into Alaska with dogshit in her hand and said, "Look what I almost stepped in!"
This portrait done on a newspaper is clearly symbolic of forgetting to bring one's sketchpad.
Why did Sarah Palin only have five children?
She heard that one out of every six children born these days is Chinese.
Sometimes, you've just got to scratch.
How can you tell if Sarah Palin has been using a computer?
There's whiteout on the screen.
The President's affinity for basketball is well known, but few know how accomplished Sarah Palin is at wheelchair basketball.
In 1998, it was reported that the then mayor of Wasilla, Alaska entered the post office, checked her P.O. Box, then angrily stormed out. She repeated this once every 10 minutes for a full day before someone asked her what was going on. Palin said, "My stupid computer keeps telling me I've got mail!"
Foley hosted wearing red, white, and blue - like a French flag - and I hosted wearing the same thing I always do, because fuck you; I'll do what I want!
The Minutemen were riding in a pickup truck when it ran off the road into a lake and sank to the bottom. The ones in front got out OK but all the ones in the back drowned - they couldn't get the tailgate open.
The American flag print tablecloth is for when the American Flag pin just isn't patriotic enough.
Why does Sarah Palin always smile during lightning storms?
She thinks her picture's being taken.
No, Obama has totally quit smoking. Really.
Joe Biden was jumped by two muggers and fought like hell, but was finally subdued. His attackers then proceeded to go through his pockets.
"You mean you fought like that for 57 cents?" asked one of the muggers incredulously. "Is that all you wanted?" moaned Joe. "I thought you were after the $400 in my shoe!"
You may think that hunting wolves is cruel, but let me assure you that Sarah Palin uses every part of those wolves.
A man walked into a bar and asked the bartender, "Hey, have you heard the latest Sarah Palin joke?" The bartender replied, coldly, "No. And I'll have you know I'm Sarah Palin." That's O.K.," said the man, "I'll talk slow."
That gives a whole new meaning to "sweater puppies. Hey-o!
Why doesn't Sarah Palin waterski?
She can't find a lake with a hill in it.
This is pretty much what Barack Obama wears around the house. Yes, including fishnets.
A 12-year-old boy comes up to Sarah Palin and says, "I was looking in your bedroom window last night and I saw you and your husband doing it!" Sarah answers, "The joke's on you kid! I wasn't even home last night."
Because we love you - sparklers! Hooray!
Why did Sarah Palin cross the road?
Her dick was stuck in the chicken.
Those are all the photos I have of the session. Thank you to Melissa, Kate, Foley, Dennis, Keith, Abby, and Yao.
- Syd Bernstein
RSS
NYC Events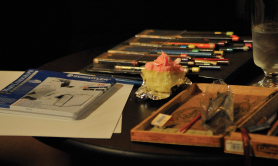 Art Tumblr
Dr Sketchy LA 12-3-13
http://drsketchy.tumblr.com/post/69027079376