Branch Blog - New York, NY
Mon, June 19, 2006 • Big Bada Boom Boom
Hello Art Monkeys!
The hot summer winds brought a whrilwind of rippling man beef to the Dr. Sketchy stage: The White Boom Boom. This boylesque hunk had a whole lotta shakin going on. but also brought in his own gun, holster, cigar, and work shirts to send us to the very heights of rough-trade fantasy. His expertly hyperactive rockabilly CDs didn't hurt either. Enough of my mooning, onto the photos!
MOlly is in Paris this week having "the Operation". Until then Me and Syd Bernstien will drive the whole show into the ground, just for you!
Industrious Art Monkeys are Happy Art Monkeys
A winner holding up a lovely bath … thing, from our sponser Lizze Sweet, makers of fine bath … things.
The winner of the "Turn the Model into Maryln Monore Contest."
I'm dissapointed no one made him Wolverine … too obvious?
Enough jibber-jabber. Onto the beefcake!
Oh my
Dear.
Goodness.
Can someone open a window?
I do belive I have the vapours…
*plop*
Uhh. Where was I? Oh yes, Thanks to everyone who came out. Thanks to the Lucky Cat for bringing out more chairs for us! Thanks to Syd and Steve and the Photographer Ryan Roman. Great thanks to the White Boom Boom for being such a ball of engery, and thanks to you, yes you. I love you most of all.
-JL
RSS
NYC Events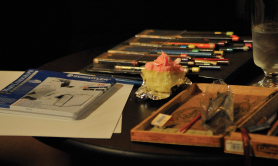 Art Tumblr
https://vimeo.com/81362468