Branch Blog - New York, NY
Fri, July 17, 2009 • Books - Like T.V. for Smart People!
Recently, Dr. Sketchy's Anti-Art School cofounders John Leavitt and Molly Crabapple (shown above making an Amber Ray sandwich) released their second book, Scarlett Takes Manhattan together. And how did they let the world know about what may be one of the most momentous events of our lifetimes? They put on a show! So it was that the Scarlett Takes Manhattan book release party was held for a ludicrously packed crowd that probably violated all sorts of fire codes. Fortunately, friend to all living things Justin Lussier was there to photodocument the whole thing!
The show kicked off with the traditional Sexy Peacock Dance, performed by Amber Ray. When she was done, the MC took the stage. Who was the MC?
Amber Ray! What are the chances?
Amber Ray did a capable job of keeping the show moving, but here, she was caught none-too-subtly checking out Molly's cleavage. How embarrassing!
I think this had something to do with cupcakes.
The second act of the evening was Gal Friday with an olde-fasioned burlesque routine. You can tell how olde-fashioned it is because I added an e to "old." Olde people don't know how to spell old.
Next, the Two-Man Gentlemen Band hit the stage! They sang a song about Scarlett Takes Manhattan! They also sang other songs! It was great!
The last act was Jo Boobs, whose grand finale started with a fiery fan dance.
Then she took off her clothes, which, in my experience, is usually a sign that something great is about to happen…
Holy Shit! Did you see that? She ate fire! She had a fire! On a stick! And she ate it! Without clothes! That's what I call a party!
Here is the result of a camera sneak-attack on John.
I don't remember what John was talking about here, I only remember that he was emphatic.
Here is Molly, being escorted by two gentlemen. Scandalous!
I don't know who the woman on the left is. I only know that I love her.
This picture is nice, but I think it's missing something…
Of course! Like most things in life, it needed more Boobs.
So, that's all from the Scarlett Takes Manhattan book release party. We'll see you again when the next book is released!
-----
RSS
NYC Events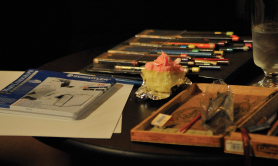 Art Tumblr
https://vimeo.com/81362468