Branch Blog - New York, NY
Tue, June 12, 2007 • Brand New Key
Oh dear. Birthday hats. Long-time readers of this blog will that me wearing a birthday hat and holding a bottle of booze cannot, nay WILLNOT, augur well. But we must soilder on, if only to gaze upon the unparalleled rockitude of Roller Derby Queen ….DANI DANGER!
If you sometimes think I over-praise the awesomeness of our models, please look at the photo above. Dani held that pose for two minutes. With wheels attached to her feet.
And then she did it again …
and again….

and then she GOT INTO A DRUM! She became a whitesnake album cover for YOU! Your stupid brains are not enough to process one onehundreth of Dani Danger's unfettered awesomeness.
She also got ONTOP of a drum!
The line between medevil torture and back pain treatment is a thin one indeed.
Of course other stuff happened too. People drew!
And then won contests based on such drawings!
And then they drew yet again! Wait, who is that young man in the royal headgear? Why it's Peter! The Dr. Sketchy Lawyer and birthday boy!
King Of Us! Normally, when small tribes choose "Kings For a Day", it's a form of sympathetic magic to renew the land or bring good fortune. The chosen man is given free license to break taboos and engage in licentious behavior for a fixed time. At the end of that time, the King is either defrocked, humiliated, or killed.
We just screamed Lawyer jokes at him to the tune of the "Saber Dance."
One day, the great masses will gather under my window to shout IL DUCE! DUCE! DUCE!
One day …
Dani Danger in yet another impossible pose and..wait, what's that?
HER EYES ARE WHEELS! WHEEL-EYES! IEEEEEEEEE!!
Dani also brought in a number of costume changes, from Punk Roller
To apple-pie cheesecake!
To -nearly-breaking-NYC-liquor-laws!
Ahhh, legal grey areas are so awesome!
And now, free skate! Thanks to Ryan Roman and Dr. Simon for the photographs! Thanks to Dani Danger! Thanks to Steve Walker and Syd Bernstien! Thanks to the Lucky Cat and all Art Monkeys everywhere! Now wont you take my hand…and skate with me….to….Xaaaaaanaaaaaduuuuuu…..
-JL
DR. SKETCHY RETURNS JUNE 30th! WITH THE WHITE BOOM BOOM AND STORMY LEATHER AS WOLVERINE AND MYSTIQUE!
-----
RSS
NYC Events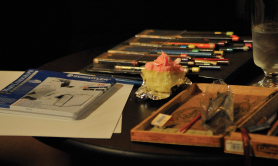 Art Tumblr
https://vimeo.com/81362468