Branch Blog - New York, NY
Fri, November 07, 2008 • Brass In Pocket
A Monumental And Memorable Dr. Sketchy's this week! For our tribute to Steam Punk and everything that cranks, pumps, twists, and blows, we have our very first All Monkey Models! The Hard-Working , Ever Handsome Steve Walker and the Passionate Fasion-plate, Penelope!
Taken out of the crowd after a model no-show, Steve and Penelope ruffled our petticoats and made an airship out of our hearts.
Your ever-lovin', historically dressed hosts. Fashion hint: If you are on the portly side, do not wear suspenders unless you're ready to give in to the "Sad Old Cop from the 40s" look. Photos, once again, by Dr. Simon. Start the engines! Turn the wheel! PUSH THE BUTTON!
I always like Implied Narratives in poses. It's like a three act play without all that annoying talking.
I can't remember WHY this contest resulted in David Bowie's Magic Crotch ..but it did. And I think we're all happy for that.
Some people brought laptops! Others did crazy experimental collages! It's like you guys are *artists* or something. Sheesh.
Oh drinking contests, you always bring out the best/worst in people.
Wrap up the machine and deflate the Zeppelin, it's nice to close up shop. Many many shiny thanks to Penelope! Steve! Dr. Simon! Hillary! Justin! And to me! Come back this Saturday for Rococo Glam-Rock and our LAST LUCKY CAT SHOW! Be there or Not!
-JL
SUPER EXTRA FUN SUPPLEMENT
Justin Lussier, our resident redhead, provides his own vision of our Retro-Future wonderland. It's just like being there and also on powerful drugs!
Funny thing, Steve's not in costume or anything. He just always looks like that.
Thanks Justin!
-----
RSS
NYC Events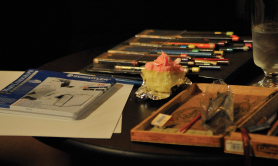 Art Tumblr
The results of tonight's Dr Sketchy's session :D
http://drsketchy.tumblr.com/post/69489605480