Wed, August 22, 2012 • Burning Man Special Edition Dr. Sketchy )'(
Are you going to Burning Man? Then pack your drawing supplies because the Reno chapter of Dr. Sketchy's is taking it's show on the road and going BIG in the vast sandbox of Black Rock City aka Burning Man!
One week from today, an international cadre of 6 Models, 2 Art Cars, Prizes, a Celebrity judge, an electro baroque Songstress, a ton of donated art Supplies, stocked bar w/Bartender, and director Dusty Bacon will host a Sketch oozing so much sexuality it will truly be worthy of the 2012 Fertility 2.0 theme. Wednesday 8/29 two giant art cars will be waiting to ferry pARTicipants to a sculpture in the Deep Playa where three pairs of models spanning the gender/orientation spectrum will be posing it up on a large art installation or two.
For all the dusty details click here: http://playaevents.burningman.com/2012/playa_event/7350/
If you're going to the Burn come and represent your chapter of Dr. Sketchy's!
RSS
NYC Events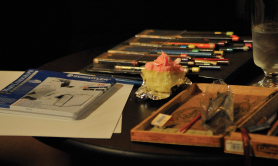 Art Tumblr
https://vimeo.com/81362468