Branch Blog - New York, NY
Mon, December 22, 2008 • Calender Girl
Hot Damn! Dr. Sketchy's presents Darenzia in a tribute to the Late Great Betty Page! It's also Dr. Sketchy's Third Anniversary, so the party hardy was even ..hardier. Click below for Cakes, Whippings, and Etcha-Sketchys!
What's a birthday without cake?! NOTHING that's what it is, NOTHING. Thanks to the amazing and talented hands of Melissa and Co, a gigantic cake was made to celebrate out 3rd year of running around like drunken ferrets. Syd makes a nice, creamy center but I think our readers would prefer something a little more …boobtastic. Photos by Dr. Simon, the cad.
The lusty, busty Darenzia as the notorious Betty Page.
We had Justin and Syd on stage as the "Camera Club" for Darenzia. Oh we're just such clever little apes, aren't we?
Sir, I believe that my girl is, in fact, red hott, and your girl is doodly squat. If you please.
The Etch-a-Sketchy company had, in a fit of madness, given us the venerable toys as promotional objects. If they only knew what perversions waited their charming children's toy…
Oh, our art is confusing and strange!
See! Confusing! Strange! Something about smoking giraffes!
Hot damn! And now the always inimitable Justin Lussier in a very special-never-repeated on stage photos! Take it away copper top!
We had a smoke machine. Can you tell?
And! That's! It! Many mucho thanks to everyone and anyone who kept us going for three whole fucking years. Come on the 3rd for the amazing Pearle Noir in "Mardi Gras Madness!"
-JL
-----
RSS
NYC Events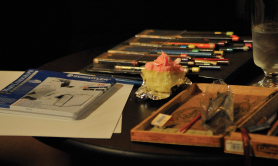 Art Tumblr