Branch Blog - Chester, UK
Sun, August 07, 2011 • Casino Girls & New Venue!
Its Vegas Time Baby!! The *first* EVER feature length Dr. Sketchy's Anti-Art School comes to Chester!! Its Casino a Go-Go with The Star Bazaar ~ who will be our stunning models and performers for the night along with Miss Pepper decked out in Lucky Dame - Couture Latex wear (ahem. not to be missed!!!) ... There will be vintage & handmade on sale too from those cool kittens of Becnicks Wonder Emporium (57, Christleton Rd, Chester) and Extinct Design (
http://www.extinctdesign.co.uk
) Drinks to be drunk! Dames to Draw! Prizes to Win! Shows to See! You don't need to bring a thing! Paper and pencils are provided. But if you prefer to bring your own materials, please make sure wet/messy items aren't any more than a neat watercolour set. Its easy to join in the fun and discover skills you never knew you had... over a drinkie or two makes it all the more sweeter* As with every Dr. Sketchy event - expect burlesque performances, plenty of sketching challenges, prizes and all within a good few feet of the bar! Its art that doesn't take itself too seriously.... to make seriously good art. The kind of class that embraces the "you are where you are" philosophy and just enjoy the ride... the scenery is swell ;P The Laugh Inn is a fabulous *new* venue for Chester, recently opened, putting on some great comedy and burlesque. Its soooo easy to find too. Oppersite the Chester Railway station. (
http://www.thelaughinnches​ter.co.uk/contact-us/
) We LOVE it when you dress up to match our themes too! But theres no pressure ~ where what you love. This is a TICKET ONLY event and no tickets will be sold on the door. Price £9.00 Available to purchase at
http://www.drsketchynorthwales.co​.uk
or by sending via paypal direct to
[email protected]
​k *NOT TO BE MISSED* Over 18's only.
RSS
NYC Events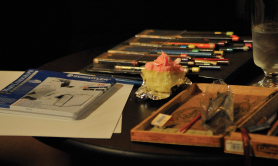 Art Tumblr
Dr Sketchy's LA 12/3/13 (pt. 1)
artofach.blogspot.com
http://drsketchy.tumblr.com/post/69132640329