Branch Blog - New York, NY
Wed, April 19, 2006 • Cat On a Hot Tin Roof
The temperature just keeps rising at Dr. Sketchy's. This week Amber Ray set the bar yet again for costumed models. Appearing just purrfect as a Spooky Kabuki Kitty. With fangs no less! Our increased prices didn't stop hordes of Art Monkeys. Amazing photos by Gary Winter Follow
Ye-ow! Thats one lucky act. I'm pretty sure we'll all end up on furry stroke sites now, but man it's worth it.
The mood lighting makes this look more like a Fritz Lang film. Or a Bacardi ad.
Particularly this one.
"Heeh Mack! She vill make a fine one, yeesss"
Myself and Ms. Molly Crabapple. Which one of us seems more drunk to you?
Art Monkeys have dirty, dirty minds.
And then the contests. We had both "Amber's Natural Villian" and "Robot Easter Bunny", reflecting our deep religious devote.
THe prize was a a French Whore. The drink.Get your mind out of the gutter, We don't have nearly that kind of budget.
The winner declined when he found out what was *in* a French Whore (like many men before him.) So Amber heroically took it upon herself. A tipsy model is a happy model (But they like tips even more.)
Before we depart, lets thank our very own Syd Bernstein. Comedian, Door Man, Stand-in Model, and all around Helper Monkey. If you see him, give him a banana.
Oh do I even have to say thank you? You all know how much we love you, all of you, especially the ones whoes named escape me. But our love is just for you, Lucky Cat, Amber Ray, Syd, Steve, all our sponsors and everyone who enjoys booze, burlesque, and Bristol.
-John Leavitt
-----
RSS
NYC Events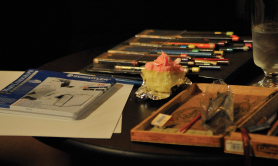 Art Tumblr
Dr Sketchy LA 12-3-13
http://drsketchy.tumblr.com/post/69027079376