Branch Blog - Bergen, Norway
Fri, May 06, 2011 • Circus!
Bergen had it's first Dr.Sketchy session april the 26th and thanks to our wonderful helpermonkeys it was a huge success!
Our first theme was CIRCUS and our models were nothing short of fabulously dressed as a circus director, a panther and a parrot. And thanks to our photographer
Wenche Irene Berentsen
we're able to share this magical event with you! The night started off with Fernando (our very handsome circus director) and his pet, Alexia.
after awhile Fernando grew tired of Alexia and opened his eyes to another beauty (men, huh?)
but Fernando quickly learned that hell hath no fury like a woman scorned
but in the end Alexia the panther and Tallulah the parrot realized their love was for eachother, poor Fernando.
In the middle of all of this we had great entertainment by some instructors from local dance studio called Steg dans og Trening, they really set the mood for the evening and were simply amazing. They were even kind enough to pose for our artists;
Congrats to Toschie for winning 2 out of 3 contests, maybe someone dare take his throne on our next session in June!
RSS
NYC Events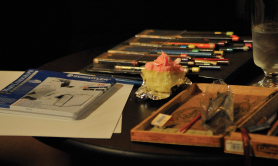 Art Tumblr
Alvin Black III
Frosty's going to melt…at Jingle Belle, Dr Sketchy Chicago Branch
Model: Rhonda Vous

my work on facebook: https://www.facebook.com/AlvinthethirdPainting
http://drsketchy.tumblr.com/post/70620589200