Branch Blog - New York, NY
Tue, February 05, 2008 • Come out to play!
Darlings! Once again it's time for Dr. Sketchy's Anti-Art School! This tme we visit New York in the 70s for a funk-blasting, disco-balling, coke-snorting good time! Now C'mon and shake your groove thing to the lovely AKYNOS!
She's totally AbFab, don't you think?
And your groovy hosts, Molly Crabapple and John Leavitt. Molly's contribution to the New York 70s theme was "Folk Singer". Note the pigtails. I, on the other hand, merely have long hair and several substance abuse problems.
C'mon Akynos! Lay all your love on me!
Even the MTA got into the 70's spirit by randomly and chaotically closing major subways! So we had "Best incorporation of rail delays.:
The winner and her funkadelic Prize, allowing her to more on the floor, or so I've heard.
I think I need a new word to describe Akynos' hotness. Super Funkawesome.
Dr. Simon set up an impressive lighting and stage array, allowing us to do things like this!
And of course, ART!
And of course, the HARSH JUDGING OF SAID ART!
Which leads to prizes
Which leads to drinking. But then again, doesn't *everything*?
Of course, one person got a very special..very personal piece of art. Amanda's friend was visiting from Flordia and greeted him in the traditional Dr. Sketchy's manner
Ahh, poor Stew or..Steve..or..whatever his name was. Such is the cost of those who must become Art!
I feel so Warhol, I just no one shoots me.
r

And with that, we must close the Club. Studio Dr. Sketchy's is no more ..and it's morning in America. Sigh. Well you know what they say, if you can remember it, you weren't there. Thanks to Akynos, Molly, Steve, Syd, Eve, Dr. Simon, Amanda's poor friend who is probably dead some ink poisoning, and all you monkeys. Join us next week for Aprella's Valentines Day!
Keep on Dancin'!
-JL
-----
RSS
NYC Events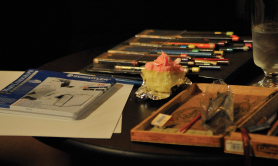 Art Tumblr
Dr Sketchy LA 12-3-13
http://drsketchy.tumblr.com/post/69027079376