Branch Blog - St. Louis, Missouri
Mon, December 17, 2012 • Creepy Uncle Kay-Dr. Sketchy's STL Holiday Party Draw
We are thrilled and disturbed to announce that Dr. Sketchy's is back on December 23rd with everyone's favorite creepy uncle for our 3rd annual Very Creepy Xmas!
Mark your calendars for a night of cider drinking, drawing and blanket candy with Creepy Uncle Kay and her favorite nieces and nephews. Onesies will be worn and we encourage everyone to dress in their favorite onesie too!
EXTRA COOL AWESOMENESS: Live music by Strawfoot!
December 23rd, 3:00
Van Ella Studios
2646 Cherokee Street, St. Louis, MO
$8
RSS
NYC Events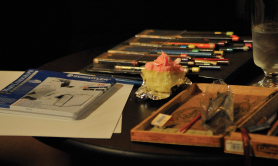 Art Tumblr
https://vimeo.com/81362468