Branch Blog - New York, NY
Thu, April 07, 2011 • Cynthia Von Buhler's Day Off
Hello, Art Monkeys.
We all know that modeling is hard work. For those of you who complain about having to move around all the time, you should try standing perfectly still for a while. It's harder than it looks. However, once the model's work is done, the art itself has the even harder job of staying perfectly still for years. It is largely thankless work (Monty Python has explored this theme), which is why at our last session, we allowed figures from a painting to move around and only hold poses for minutes at a time. The painting we appropriated for this session was "Show and Tell" (see above) by Cynthia Von Buhler (see link). Yes, this was part of our Art Star series of sessions in which we pay tribute to Molly's ultrafamous and sickeningly talented artist friends.
Cosette Chapiteau was Show.
Sucre d'Orge was Tell.
We also had live music by The Howard Fishman Quartet (featuring Russell Farhang). They are not pictured (they played upstage right, just outside of the frame of these photos), but they are better heard than seen anyway, so why not head over to Howard Fishman's website and buy some music? However, if you are just here for the photographs of our lovely models, then photographer Justin Lussier has that covered:
Cosette is serious about her ukelele and will not be mocked.
Our first contest, as always, was Best Left Handed Drawing.
A NOTE ON THE BEST LEFT HANDED DRAWING CONTEST: The Best Left Handed Drawing was introduced over five years ago at Dr. Sketchy's Anti-Art School under the name "Best Left Handed Drawing," and has fairly consistently been referred to onstage and in the blog as such - except for on Dr. Sketchy's Maryland (which is my favourite Dr. Sketchy's blog, and their most recent session reminded me of Peter David and J.K. Woodward's Fallen Angel, which made me intensely happy) where they call it "opposite hand," but I chalk that up to regional slang, like how some people call pop "soda." Recently, however, there has been growing discontent over the name, since if you are left handed, the drawing should be done with your right hand (but then the person drawing is left handed, so the name still applies). Then again, the name (including Baltimore's variant) does by its very nature exclude the ambidextrous. Certain factions (including John) have taken to calling it "Best Non-Dominant Appendage Drawing," which is a clunky, pedantic, overly lengthy name and it still isn't accurate, because the rules of the contest allow you to draw with your dominant foot. It's stupid and I hate it.
I have considered the issue, and I have come up with a new name I'd like to run by you: "Hand Switch." It's the shortest name, it's catchy, and it includes the ambidextrous (in which case the "switch" is the switch between hands and feet or mouth). What is required of you - the art monkeys who are devoted enough to both come to the sessions and read the blog - is, when at the next session John asks for the name of our first contest (and he probably will - he pretty much always does) is for you to shout "Hand Switch," or if you're an old-school purist, you could go with "Left Handed Drawing," or if you like "Opposite Hand Drawing," that's good, too, hon. Just shout anything but "Best Non-Dominant Appendage Drawing." We'll go by whatever is said loudest (unless what is said loudest is "Best Non-Dominant Appendage Drawing," in which case you are a loud idiot - like Sarah Palin - and I will ignore your opinion).
Sucre caught a butterfly. Then they fell in love.
You may not know this, but our photographer Justin Lussier is quite tall. As we see in this Justin's eye picture of Molly and Cynthia, he sees us all as Myspace pictures.
Cosette spreads her dress to fly.
The theme for our second contest was "Most Renaissance." This contest was judged by Cynthia herself, who called for "a hint of surrealism."
The first echoed the religious themes of the Renaissance by having a horrible giant bird sneaking up behind Cosette.
The second set the models in the Colosseum, which is from the same country as the Renaissance. As they say in old Napoli - "abbastanza vicino."
The third is a perfect blending of the Renaissance and the surreal that I call "St. George Meets St. Elsewhere."
The winner got a book from our good friends at Baby Tattoo
Sucre has tried to quit smoking peacock feathers, but she can't even cut down.
During the break, Sucre d'Orge performed a strip tease for us. It was everything we could hope for and more.
I was going to make a joke about shooting the models from behind, but you know what? You don't need me for that.
The theme for our final contest was "dark secrets."
Our first entry was the only one that explicitly reveals anything. I think the rest of the secrets were "I don't pay attention to the themes of contests."
I call this one "Get that Fucking Key Away from Me."
And I call this one "Lovecraft, American Style."
This one filled in the model's chest hole.
This artist did some research beforehand.
One of the winners of the Drinking Contest was a teetotaler, so John had to stand in, but when he was caught sipping, Foley had to step in to down the shot of wisdom juice.
Those are all of the photographs I have, but we're not done yet! Check out Cynthia Von Buhler's blog for additional sketches and video!
Thank you to Melissa, Molly, Foley, John, Dennis, and Yao. See you next time.
- Syd Bernstein
RSS
NYC Events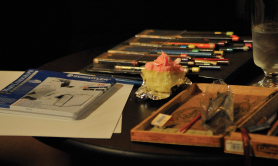 Art Tumblr
https://vimeo.com/81362468