Branch Blog - New York, NY
Thu, January 14, 2010 • Da Alig Show
Hello, Art Monkeys! At the last session of Dr. Sketchy's Anti-Art School, we did our tribute to the club scene of the early 90's, with dancing and drugs and drinking and drawing and destruction and death and dismemberment and desire and despair and delirium and destiny and dream! And playing the king of the club kids himself, Michael Alig, was burlesque star Madame Rosebud.
Madame Rosebud came out wrapped like Claude Rains in Caution tape. I feel this is a positive message to the young people, who I feel do not exercise sufficient caution.
Oh, hi there!
PRODUCT PLACEMENT!
This pose daringly challenges traditional attitudes towards what is and isn't food.
The winner of the left-handed drawing contest drew her entry with her foot, which is exactly the kind of creative spirit we encourage at Dr. Sketchy's. See if you can tell which drawing is hers.
The session was hosted by Colombian drug dealer Angel Melendez.
He and Michael Alig had a playful relationship.
Melissa provided the sets and props.
Zoe and Keith set up a webcam so that all of you bastards who were too lazy to leave your fucking computers could still enjoy some of the Sketchy action.
Peter Gatien collected the money
And Clara the Carefree Chicken danced and made merry.
In this highly symbolic pose, Michael Alig gets a blowjob from Aradia Ardor's mortality.
Oh no! Michael has lost his Drano! Can you help him find it, boys and girls?
The second contest was to incorporate a chicken.
This super-ironical entry had a chicken eating Alig, who apparently also tastes like chicken.
Here the chicken is hiding behind a chair, probably up to some mischief.
As I learned from Ocarina of Time, this is how you fall more slowly.
Two artists turned the skull into a chicken head, which is also highly symbolic.
The prizes were a book from Baby Tattoo and a bat from Squishable that is not only cuddly, but also strikes fear into the hearts of superstitious, cowardly criminals.
Normal dosages no longer satisfying him, Alig turns to oversize novelty syringes.
This pose has a strong message: "I'm going to fuck you with a hammer."
In the freewheeling spirit of the club kids, Madame Rosebud flouted society's traditional mores, like the one about how it's rude to point.
As no party would be complete without excessive substance abuse, the theme of the drinking contest was to incorporate drugs.
Why does my guardian angel never inject me with heroin while I'm snorting cocain? My guardian angel sucks.
I don't know what this is about, I just know that I'm turned on.
This drawing is disturbing enough, but the caption "If God Invented something better than black tar heroin he kept it to himself," makes me wince. Why all the religious imagery? Is there some weird correlation between drugs and religion that I'm missing? I'm not sure, but it is the only way I can sit through a mass.
Here, the model is being smoked by a HUGE guy.
He has a monkey on his back. You see? Also, the monkey is holding a syringe in case the metaphor was too subtle for you.
Here the model is turned into a meth lab. This drawing did not get the love it deserved at the session, but I hope it can find its audience online.
The winners of the contest were rewarded with shots of Drano.
Ultimately, Angel was tragically murdered. That's kind of a downer ending, though, so to balance it out, here's more dancing with Clara the Carefree Chicken:
Thank you to Molly, Melissa, Justin, Beth, Foley, Zoe, Keith, and Dolcy. I'll see you all again on Saturday!
-----
RSS
NYC Events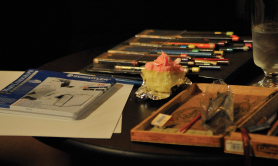 Art Tumblr
Dr Sketchy LA 12-3-13
http://drsketchy.tumblr.com/post/69027079376