Branch Blog - Baltimore, MD
Sun, August 08, 2010 • Dahlia Derriere does Dead Dames
There isn't much point in getting all loquacious about it, the pictures pretty much do the talking.  Clearly, Dahlia Derriere was pure win.  Our usual photographer Jeff wasn't able to make it (he was at Comic-con punching out storm troopers or something) so
Jen Swanson
lent us a hand---and wow, did she. Dahlia's first dead dame was Cleopatra . . .

Jeff Lance

Ben Carnow

Jeff Lance

Ben Carnow

Liz Beetem
Look at that pose---she held that for FIVE minutes.  Wow.  And then she did it again, this time for a TEN minute pose.
The second contest was the best interpretation of an encounter between
Juanita Cruz
(Dahlia's second historical heroine) and a bull, with extra points if you work in an homage to a famous Spanish painter.  There were two winners with each receiving a sketchbook from
Artist & Craftsman Supply
, which is just down the street from the Windup Space, at the corner of North and Howard.

Liz Beetem

Jeff Lance

Liz Beetem

Ben Carnow
The third contest was the random noun contest in which we ask the crowd to suggest a random person, place, or thing. This time around, the random noun chosen was "Amsterdam", and the prize was Gris Grimly's
Little Jordan Ray's Muddy Spud
from
Baby Tattoo Books
.

John Brewer

Ben Carnow

Liz Beetem

http://www.tomsymonds.com">
Tom Symonds

Fred Zeleny
Our last contest of the evening was "zombie Amelia Earhart" with the prize being a $15 gift card to
Atomic Books
in Hampden at the corner of the Avenue and Falls Rd.

Ben Carnow

Liz Beetem

Mike Hasson

Fred Zeleny
Many thanks to Dahlia Derriere who did a smash-up job, and to Jen Swanson for taking the beautiful photos you see above. Special thanks as well to our sponsors Atomic Books, Artist & Craftsman Supply, and Baby Tattoo Books.  Thanks also to Russell for DJ'ing/bartending, to Bill for manning the door, and to Alexis for hosting and general rabble-rousing. Our next session is tomorrow, Monday, August 9th with Roma Mafia at the Windup Space!  Doors at 6, start at 7 - this is the ONLY session we'll have in August, so if you miss it, you'll be Sketchy-starved for over a month!  (Don't worry though, come September we'll start up our usual scheduling.)
RSS
NYC Events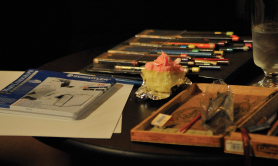 Art Tumblr
Dr Sketchy's LA 12/3/13 (pt. 1)
artofach.blogspot.com
http://drsketchy.tumblr.com/post/69132640329