Branch Blog - Philippines
Tue, August 02, 2011 • Dear Prudence Is No One's Bride
WHAT WENT DOWN: Dr. Sketchy's Returns This July With An Unconventional Anti-Wedding Theme!
Tired of the June Bride special? After one month of hiatus, Dr. Sketchy's Anti-Art School Philippines came back this July with an unconventional anti-wedding theme!

The woman next door… The sultry last date…
It was our pleasure to introduce one impeccable alternative art model, Dear Prudence. And what a lovely Anti-Bride she made! She waltzed in as the woman next door, your sultry last date, and walked blindfolded down the shady aisle as the unlikely bride.

The unlikely bride…
We would like to thank you all for your continuous support and hope to see you at future events.
Now let's hear you art monkeys say 'TIL DEATH DO US PART…'
SPECIAL THANKS TO:
Kristine Smithson of KS Make-up Amber Ultra Lounge Yves Saint James Aquino
VIEW MORE PHOTOS HERE!!!
RSS
NYC Events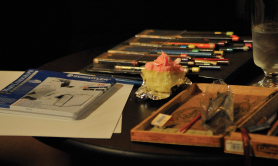 Art Tumblr
https://vimeo.com/81362468