Branch Blog - New York, NY
Tue, December 20, 2005 • December Report
Hello Art Monkeys!
The first Dr. Sketchy's Session went off without a hitch. Contests won, drinks drunk, good times and cheer had by all.
What? you don;t know what Dr. Sketchy's is? The devil you say!
Dr. Sketchy's is the bohemian art world you wished you got back in Art School. Every month, Molly Crabapple and A.V Phibes take over the luscious Lucky Cat in Williamsburg and fill it with burlesque beauties posing for the drawing pleasure of art monkeys. The artists compete for fabulous prizes, rnaging from Gift certificates to a shot of Sambuca. December's Star was the lovely Dottie Lux, clowning her way into our hearts and sketchbooks.
But enough talking. A picture is worth a thousand words and Gary Winter's photos are mouthfuls.

Things got off to a rocking start with Dottie posing for 1 minute gestures. A.V Phibes is positively stunned by her beauty

The 5 mintue poses, set to the strings of Esquivel and Pee Wee's Big Adventure.

Results of the first contest, "Best drawing of Model with Banana." Won by Illustrator Wendi Koontz. The prize? A handmade sketchbook from Ex Libris, makers of beautiful books
.

The winner of "Model with Whale". Won by Debbi Schwartzberg and her cadre of PrattgradsThe prize? Sweet live-giving Alcohol.

Molly, actually drawing.
We took a 15 mintue break for the resting of hands and the buying of booze. Dottie is sitting next to an actual, offical "I'm A Dr. Sketchy Honor Student." Mug, a highly coveted prize indeed.
Then it was back for the 20 minute poses. Not to bore you with details, but never has life drawing been more fun, or more tipsy.

The curator of the Coney Island Musuem, Aaron Beebe was in attendance, if you make him out. The man with the hat (not the motorboard, thats me.)
Those booths on the left are reserved tables. You can reserve a table at the official Website, www. Dr Sketchy.com We hope you all come out for January's Star,
The amazing Ms. Amber Ray.
The Time? 3-6pm
The Date? Jan. 14th
The Place? The Lucky Cat Lounge, on Grand between Driggs and Roebling in Brooklyn
See you there Art Monkeys!
-----
RSS
NYC Events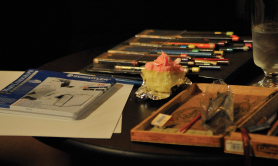 Art Tumblr
Dr Sketchy LA 12-3-13
http://drsketchy.tumblr.com/post/69027079376