Branch Blog - New York, NY
Mon, September 17, 2007 • Devil in Disguise
Due to transboral electronic currents and the alignment of several clotting factors, this Re-Cap is late. I know, all was sadness and woe, but now comes the divine light! Can I get an Amen For the acrobatic beauties of Gravity Plays Favorites?!
Testify! It was a vision of Heaven and Hell last week, as the Gravity duo played out complex metaphysical arguments with pasties and glitter.
It's about the nature of Sin. Or Free will. Or something. Just go with it.
Photos by Saint Ryan Roman and Dr. Simon, Scourge of the Eastern Star.
Your angelic host reading from The Good Book, Dr. Sketchy's Official Rainy Day Colouring Book! It's the only book you need!
(Note, Molly is not wearing a costume. She is an unholy imp….. oh don't act all surprised.)
And lo, the seventh sexy deal was broken and poured forth all manner of hotness.
That girl is POSSESSED! POSSESSED!!
Best incorporation of a bible story …you sick twisted freaks, you.
Winners did not get a fiddle of gold.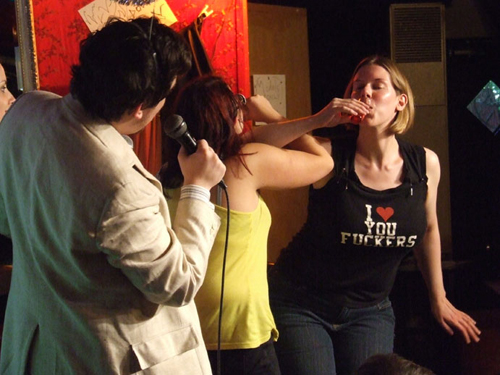 On the seventh day, God created drinking coontests and saw that it was good.
Graven images! Grrr! Emperor Leo II the Isurian SMASH!
Oh, did we mention that the girls of Gravity Plays Favorites are acrobats?
Well, they are.
And thus endth the lesson! Go forth my children and preach the gospel of Dr. Sketchy! It's good for what ails you!
Be sure to check out the Secret Private Dr. Sketchy Salon on the 23rd! Email [email protected] to RSVP. 6 Hours of lewd surrealist drawings await!
-JL
-----
RSS
NYC Events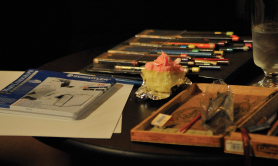 Art Tumblr
https://vimeo.com/81362468