Branch Blog - New York, NY
Sat, November 12, 2011 • Día de los Muertos Gigante
¡Buenos Días, Monos de Arte!
Or should I say Buenos Días de los Muertos? After all, recently it was Día de los Muertos - Day of the Dead, for those of you who don't habla español - not to be confused with the George Romero movie "Day of the Dead." Día de los Muertos is how people south of the border observe All Souls' Day. It's like Halloween, but more Mexican. For our día, we had two of the loveliest muertas anyone could ask for - Rogizoid and Draven Star. Kate Black photographed.
Underneath it all, Draven is still just a ghoul-next-door type.
Rogizoid looks to die for! Okay, I don't think I can keep this up for the whole entry. I don't know how the crypt keeper does it.
These backstage photographs offer rare glimpses of models with only partial makeup.
Unfortunately, Melissa couldn't make it to this session, so a mysterious masked lady had to do her job.
I know I plan to drink until I die, but it looks like Rogizoid and Draven decided to continue past that.
Even dead, Draven still has gams like you wouldn't believe.
We had quite a lively audience for this dead session.
Inanimate objects were also in attendance.
Oh! And Yao, too!
To the left, you can see Foley, and next to him is me, but we know no one is looking at us.
Rogizoid and Draven reenact scenes from their favourite Woody Allen movie, Glove and Death.
In this clearly symbolic scene, the models contemplate Aradia Ardor's mortality.
Most of the audience was happy to be there, but Lauren was positively delirious.
In case you're wodnering about this drawing, the theme for the contest was the most Catholic drawing.
Melanie poses with her contest-winning drawing and her contest-won Squishable.
These shots were used in recruitment posters for the Marine Corpse.
The artists who attend our sessions actually know how to draw things. It's amazing.
I know I can think of a caption for this, I just have to use my grave matter. Or am I going tomb far?
I don't know much about art, but I know that colours are pretty.
This is what a MySpace profile picture looks like on the Bizarro World.
I haven't seen cadavers dressed this sexily since med school.
Draven shows off one of the entries for our Drinking Contest.
There were no survivors.
Thank you to Melissa, Foley, Kate, Yao, and Keith.
- Syd Bernstein
RSS
NYC Events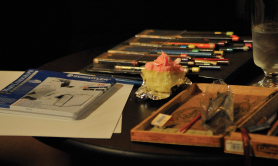 Art Tumblr