Branch Blog - Anaheim, CA
Sun, December 11, 2011 • Did you forget your Multi-pass?
On a cold December night, Phoebe L'amour and new model Brianna heated up the Dr. Sketchy's stage during the art opening of Movie Freaks & Special Effects Geeks at the Rothick Art Haus. A shout out goes to all the artists who faced the winter night air. Honestly though, would you let a little thing like the elements stop you from drawing sexy Leeloo and the rebellious Mara Jade? I think not.
Our models posed outside under the Lunar Eclipse while inside the gallery, a great collection of artwork curated by Hollywood artists Apricot Mantle and Dave MacDowell was on display. If you're in the Anaheim area, take a detour from Disnelyand and stop by the Rothick Art Haus.
Here are just a few photos from last night.
Additional photos are located here. and on our FB page here.
RSS
NYC Events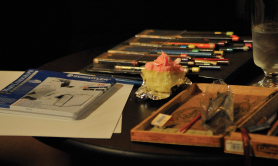 Art Tumblr
Dr Sketchy's LA 12/3/13 (pt. 1)
artofach.blogspot.com
http://drsketchy.tumblr.com/post/69132640329