Branch Blog - New York, NY
Tue, April 10, 2007 • Dirty Monkeys
Greetings Art Monkeys! This week's session exploded all over your face with Super Stars, birthdays, vampire eggs and celebratory spankings!
As we celebrate the return of that anarexic child-bride Perspheone, we move into a bold new era of drunken drawing. For Dr. Sketchy has finally hit the big time! We convinced Ms. Exotic World Winner and Burlesque Royalty Dirty Martini to pose for us.
It's like Greta Garbo playing Hedda Gabler in your High School play. I am struck with near religious awe.
If I was a cartoon wolf, I'd be whisting right about now.
Molly is out peddling Our Book at various streetcorners and highway on-ramps across the nation, leaving Dr. Sketchys in the hands of me and Steve Walker.
No, I don't think I looked like a drug dealer on Miami Vice AT ALL THANK YOU VERY MUCH.
It looks like she's gonna kick him in the head. Also notice, colorful plastic eggs filled with candy in accordance to Christian tradition for some reason! But don't fret, we're multicultural here at Dr. Sketchy's, we had a "Best Incorperation of the Plauges Of Egypt" contest. Everyone who did a "red tide" joke is going straight to hell.
Of course we had other contests as well, with faboo books from Soft Skull Press! Money quote of the evening "Hand over that porn!"
it goes without saying that we had a drinking contest.
And it also goes without saying that the prize was a Dirty martini.
Photographs by Dr. Simon and Ryan Roman. Ryan turned 32 this week despite his better judgement. Those you who remember my Dr. Sketchy's birthday know what particular horror awaits….
Sadly no one got a cake to the face this time.
Those of you with stronger consitution can see the full, "celebration", in the video below.
Of course we have more than one talented photographer at Dr. Sketchy's.
Here is Dr. Simon, ruining his reputation by doing all our video work. You really think the Noble Prize people are gonna let this slide?
Bah! Less men! More Boobs!
Gosh she's pretty. Also, in pink.
If you got a hole in one you got a prize! (A Signed 8×10 of the lovely Ms. Martini, natch)
It looks like she's having a divine vision. "Yes! with these I could CHANGE THE WORLD!". JOan Of Arch, man.
The Seven Art Monkeys!
Drinky! Sexy! Horny! Stoney! Pervy! Studly! And Bashful!
Ahh! But all good things must eventualy run out of things to talk about! thanks to Dirty martini, Steve Walker, Ryan Roman, Dr. Simon, Justin Lussier, Amanda, The Lucky Cat, Soft Skull press, and All Art Monkeys Everywhere.
Drop by the 14th, when Lucy Buttons will remind you to do itemized deductions …for AWESOME.
Best,
-JL
RSS
NYC Events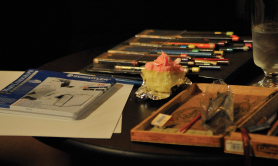 Art Tumblr
Sister Mary Willow
Dr Sketchy's Auckland 03/12/13
http://nomadshotline.tumblr.com/
http://drsketchy.tumblr.com/post/68974877262