Branch Blog - New York, NY
Tue, November 03, 2009 • Disheartening
Oh hi, Art Monkeys! It's time once again for us to pay tribute to Molly's ultrafamous artist friends with part 3 of our Art Star series. This time, we saluted Tara McPherson (whose art can be seen above this very paragraph!) Playing the part of one of Tara's absenthearted protagonists was the slender coppertop we know and love as Stormy Leather.
Stormy Leather is almost sickeningly beautiful. Seriously, this borders on uncomfortable levels of pulchritude.
Stormy adds 3 mana of any single colour of her choice to her mana pool.
The artist herself was onhand to oversee the proceedings and sign autographs.
As usual, we got things going with the left-handed drawing contest. This is to remind people who were already insecure about their drawing talent that our audience can draw better than them with their non-dominant hands!
This drawing was done on the white-lined graph paper provided by our sponsors at White Lines. Check out their Dr. Sketchy Drawing Contest.
Predictably, when the model is holding flowers, all Amanda sees is cock.
Stormy throws herself on the mercy of the court.
Stormy tries to forgive herself for all the past mistakes she has made, even those she does not remember.
Stormy shares an intimate moment with Mr. Wiggles.
Molly Crabapple takes in the sweet, intoxicating aroma of money.
Here Stormy is staring directly into my soul.
For this contest, since our model's heart is mysteriously missing, I asked the audience to draw where it is.
Like a concerned mother, this artist figured the heart was on a street corner, panhandling and shooting heroin.
This artist drew the heart on line at the DMV. I assume this is based on personal experience.
This artist conjectured that the heart was stolen by an unidentifiable shadowy figure - possibly Dick Cheney.
This Pollyanna showed the heart being back in Stormy's chest, and gave her nice new pink stockings.
This artist identified the heart thief as none other than Mr. Wiggles!
And Amanda had the inflamed heart bursting through Stormy's vagina and being eaten by a cat. Also, she has no legs.
Mr. Wiggles is watching. No one is safe.
Stormy Leather is a champion at staring contests.
Free cupcakes were provided by our good friends at Glittle Cupcakes. Beautiful people love them and so should you.
Stormy Leather keeps them close to her heart, or at least close to the gaping void where her heart once was.
For the drinking contest, I asked the audience to incorporate my own favourite holiday (which is only a week away!) - Armistice Day.
This rendition of Stormy riding a smiling bomb of love puts a cute face on all of those who lost their lives in the World War.
Here, symbolism is employed to represent peace, love, jingoism, and liquor, almost all of which I strongly approve of.
Although Armistice Day is observed by most of the allied nations, and can be viewed as a show of unity, we all know that America is the best and most united of all of them.
Amanda's idea of honouring the end of the war was to murder me. I can't really argue with that.
This artist had a giant Stormy Leather ending World War I by telling everyone to knock it off.
In a more militaristic version of the same theme, Stormy ends the war by mowing down the Kaiser with a fucking tank.
And the winners had martinis.
That was the last pose. Sadly, I must be going, but not before thanking Molly, Stormy, Tara, Melissa, Justin, Dave, Hilary, Beth, Foley, Dolcy, Glittle Cupcakes, White Lines, Baby Tattoo Books, Squishable, and you, the steadfast and loyal readers of this blog. I'll see you again soon!
-----
RSS
NYC Events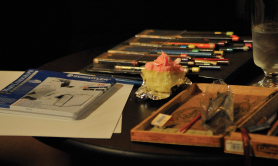 Art Tumblr
Dr Sketchy's LA 12/3/13 (pt. 1)
artofach.blogspot.com
http://drsketchy.tumblr.com/post/69132640329