Branch Blog - New York, NY
Thu, January 15, 2009 • Do You Know What It Means To Miss New Orleans?
Our insane tribute to Mardi Gras with the lovely, lovely Pearl Noir as the Spirt of Southern Decadance and Jestery! Much madness and mask-painting and Etch-a-Sketching follows
Photography by Dr. Simon. INsanity by the Art Monkeys.
And again, as always, Justin Lussier's own, personal take on what passes for artistic merit here at Dr. Sketchy's. Go foward!
I don't even remember the contest for that one, I'm sure it was obscene
-----
RSS
NYC Events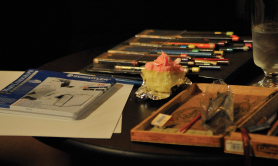 Art Tumblr
https://vimeo.com/81362468