Branch Blog - Cleveland Ohio
Mon, September 27, 2010 • Dr. Sketchy Cleveland at the INGENUITY FEST!!!
Well, The Duo that bring the noise that is Dr. Sketchy Cleveland Put up a Big white room called the Doodle Bar this last weekend at Cleveland's Ingenuity Fest. It was... WAS a big white room decorated and furnished with all white stuff, and we left it to cleveland to draw all over it, and they did! Saturday night we Held an actual sketchy there for free. From now on out that Cleveland branch will be run by the same to Dr. Aaron and Dr. Jason, but we are advertising ourselves as The Yoyo Factory specializing in bringing creative to everyone!!
http://drsketchycleveland.com/
Check out our coverage here and here,
http://www.newsnet5.com/dpp/news/local_news/ingenuity-fest-gets-underway-under-the-bridge
.
http://clevelandmagazine.blogspot.com/
RSS
NYC Events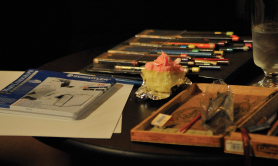 Art Tumblr
https://vimeo.com/81362468