Branch Blog - Cleveland Ohio
Tue, July 09, 2013 • Dr. Sketchy Cleveland Side Project! The Voix de Ville!
Over the past four and half years, here in Cleveland Dr Sketchy has hosted amazing performes, beautiful models and the most talented of artists!
Some of them have banded together to create a new porject Called the Voix de Ville. Headed up by Jason (co-operator of Dr Sketchy's Cleveland) and Danielle (Dr. Sketchy Vixen extradinare) , AKA Pinch and Squeal, have teamed up with fellow artists of Dr. Sketchy Cleveland Illustrator Craig Worrell, and Matt Beckwith, and amazing model BC Miles.
http://www.kickstarter.com/projects/1601712092/the-voix-de-ville-a-pop-up-theater-and-cabaret?ref=category

We are taking what food trucks have done for restaurants and applying the
same approach to theater.
We are creating a 60 seat mobile tent inspired by the historic Spiegel
tents, and European tent venues. It will showcase our zany multi-faceted
neo-vaudeville cast, our three piece band and invited guests from all over
Cleveland and the US to entertain, enlighten and share.
We only have 3 days left! We will be honored by your pledges and shares!
Love from Cleveland!!!!
RSS
NYC Events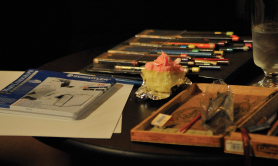 Art Tumblr
Dr Sketchy's LA 12/3/13 (pt. 1)
artofach.blogspot.com
http://drsketchy.tumblr.com/post/69132640329