Branch Blog - New York, NY
Wed, March 26, 2008 • Dr. Sketchy Is Watching You
Citizens! Now is time to enjoy the Revolutionary Re-Cap Of Dr. Sketchy's Anti-Art School!
Presented To You By Your Party Leaders For Life, Molly Crabapple And John Leavitt
With Pandora, Heroine of the Second Female Collective Model Squad!
Doubleplus Good Photos by Loyal Citizen Justin Lussier.
Her eyelashes are made from the hair of dissents!
Molly And Pandora embody all the Correct Virtues of a True Sketchista. Honor, dignity…
..um..creative headgear. Let's move on
A packed house since attendance is mandatory under the new MINIART act.
Happy are the monkeys who sketch for the revolution! Happy are the models! Happy are the hosts! Happy are the masked insurgents! Well , okay no, they're not that happy.
I'm the meanest Oompah Loompah you ever did see!
Art was, of course, awarded with prizes. Like an entire bottle of vodka (seriously).
Or shots for people who can't down a whole bottle at once ..you rootless cosmopolitans you.
And that's a wrap comrades! I smell a coup in the air, so I'm off to become a private citizen again! Thanks to The Lucky Cat, Steve Walker, Dr. Simon, Justin Lussier, Syd Bernstien, Eve Butlerr, Pandora and All Art Monkeys Everywhere.
Come next week when Darlinda Just Darlinda will serve electric rainbow kool-aide acid. Far out!
-JL
-----
RSS
NYC Events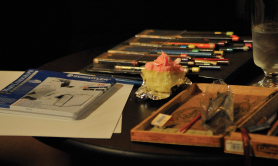 Art Tumblr