Branch Blog - St. Louis, Missouri
Fri, December 16, 2011 • Dr. Sketchy's 2nd Annual Very Creepy Xmas!
Dr. Sketchy's St. Louis is pleased (and uncomfortable) to announce that our most popular Dr. Sketchy's is reprising again for a creepy night you won't (but will try to) forget!
It's that time of year again, when everyone's favorite creepy uncle comes around to tuck in all her favorite nieces, offer "blanket candy" and make promises of Disneyland for good little girls who promise to "keep a secret" It's creepy, it's wrong, and it's ridiculously hilarious and fun.
Bring your sketch pads, cameras and ugliest Christmas sweaters for a night of drinks, drawing and most certainly, debauchery!
You don't have to be able to draw to enjoy this event, just come to watch! (That's what Creepy Uncle Kay always does!)
Featuring Creepy Uncle Kay and all her favorite nieces (Uncle Kay has a LOT of nieces and even a few nephews!)
Sunday, December 18th
Van Ella Studios
$8
BYOB
We also be offering some delicious holiday beverages as well!
We are also treating this as our VanElla Studios Holiday party, so please feel free to come out and get festive with us! We'll have music, I'm sure there will be dancing and we'll most certainly eat cookies!
RSS
NYC Events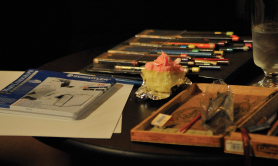 Art Tumblr
Dr Sketchy's LA 12/3/13 (pt. 1)
artofach.blogspot.com
http://drsketchy.tumblr.com/post/69132640329