Branch Blog - Anaheim, CA
Fri, March 01, 2013 • Dr. Sketchy's Anaheim Premiere Feature - Interview with Ivy D'Muerta
Greetings Art Monkeys!
Dr. Sketchy's Anaheim is proud to bring you the first in a hopefully well received and on going feature for the Dr. Sketchy's organization and Art Community... Model Interviews! Ever wanted to learn more about the models on stage? Want to know about their personal interests, backgrounds, and activities? Have you wondered what goes through their minds as they stand (Often naked) in front of a crowded room? Now you can!
Model Interviews will delve into the often seedy, slightly dirty and rarely (but possibly) innocent minds of the Men and Women who have inspired artists during Dr. Sketchy's sessions. Many of which continue to do so beyond sessions through alternative forms of media and by their simple day to day activities. So who did we choose for our premiere interview?
Model, Art Director, Metal Slinger, and Physicist (That's right!!!)
IVY D'MUERTA
Let's start with the basics. How did you get started in modeling?
I became a professional model by accident. I tried fashion modeling when I was 12 but soon fired my Agent because I didn't want to live with an eating disorder my entire life and ruin my self-esteem and health. (Well, that's another story and can be checked out on www.deliciousdames.com, a two-part interview on getting bullied and a conquered battle with anorexia.)
But when I was an "adult" my friend was in photography school and asked me if she could take some pinup photos of me. I only did it to help her out with her class and thought it could be something fun to do. Little did I know, or else I would not have agreed to do this because I'm actually really shy, would these photos be seen and companies and photographers wanted to know how to contact me and for some odd reason they wanted to pay me to model for them. It went crazy from there and I unexpectedly found my creative outlet and one that I could make a little money from. I will always be thankful for this.
What lead you into becoming an art model?
My good friend and artist Andrea Young (http://www.andreayoungdesigns.com) inspired me to try it. She is an artist and watching her work and hearing her tales I decided to give it a try. I'm a pretty energetic person so I wasn't sure if I could handle sitting still in some awkward position for so long, but once I tried it I realized it was a perfect time to meditate. Each session I've ever done has always had a good vibe. I love hearing and feeling the intense silence and creative concentration emanating within the room, and there seems to always be laughter and smiles.
Is your approach to modeling for an art session different from that of a photoshoot?
Absolutely. With modeling, each session is completely different. There's the photographer, stylists, sets, vibe for what we are creating… Modeling sessions can be anywhere between 1 hour to 12 hours, even weeklong ordeals. So much high energy and constant work. With modeling for an art session, you know exactly what to do and you're there for these brilliant minds to be inspired and create their interpretations and allow their imaginations to be free. You have to bring a different mindset, and like I said before I feel I can have a sort of meditative session during this. I love it though; it's a more intimate experience.
Do you have any favorite artists?
The list can be limitless. When I was 7 my two favorite artists were Pablo Picasso and Frank Frazetta. They are still among my favorite artists, but the names on the list keep growing. Especially now when so many of the people I meet are artists, I am a fan of so many. I love the completely different styles people take on their work and expressing themselves. No piece will ever be the same; nobody can truly duplicate another's style because it is not that person's work. No artist can replicate what they've done before because they will be in a different time in their life, with different emotions. That's what I love about art and artists, constant evolving and learning.
If you could pick any artist to draw you, who would it be?
Any artist who may feel inspired by me… That will always be an honour.
If you could be on the cover of any magazine, excluding ones you've already been on, which one would you pick?
I would really like to break the barriers and be on the cover of Fashion Magazines, I think it's high time they really got artistic and put tattooed models on their covers. When I walked for Fashion Week back in 2009 I felt like I broke rules and opened eyes, nobody expected to see a model with a full sleeve of tattoos walk down that runway (Thank you Tristan + Trista!) I saw that Vogue Italia had a cover with a model in a full body of painted on tattoos for their December 2007 issue. I remember seeing it and how beautifully styled and photographed it was and thinking; "Oh, maybe this will catch on now…" Unfortunately I haven't seen much more of that with female models with real tattoos, it appears it's still much more acceptable for men to be tattooed instead of us ladies. The only magazine work so many of us can get are publishers who want us in our "hand bra" poses and be "fashion" but really, we're just in our underwear and maybe a necklace. Which is fine, but I'd like to wear crazy outfits and beautiful gowns and break stereotypes.
Artist - Big Toe
Are there any special locations you'd like to model at?
Yes, I'd love to travel the world and model. I am inspired by nature and ancient history; if somehow I could incorporate that into my art (modeling) I would be extremely thrilled. That is something I've been working on, I aim to obtain it one day.
A fun fact many people forget is that you're a physics dork. So answer this…
RU
18 QT π = ?
I am a physics dork, future Astrophysicist! Wait, where's Google…
How have you taken advantage of your great big set of lobes while working as a model?
Boobie lobes and brain lobes… They go hand in hand.
But(t) really, any aspiring models PAY ATTENTION HERE! Your tig ole bitties will only get so far in modeling; always use that awesome muscle that is in your skull first and foremost. I've seen and heard so many horror stories about girls desperate for their big break that they'll just put up with anything and the ways they get taken advantage of are awful. If you are consistent and stick with your true self and what you truly see for yourself, good things will happen. You need to be strong-minded.
Art and Science are commonly considered separate subjects. Do have hypothesis as to why?
Yes, because people are known for being dumb.
No really, I truly feel art and science is not that far off from each other. Within the scientific community, we keep open minds. We seek which has not been seen and like to figure out why and how. If we are proved incorrect, we do not take offense and say, "nuh-uh, I was right at one point and I'm going to still think that way". We constantly evolve. Within the art community, I experienced similar feelings. Open minds, constant evolving, creating, expanding our minds and educating ourselves.
To really prove a point here, I recently had the privilege of visiting NASA's JPL Center in Pasadena, California. Art and Science was everywhere. And in one section of a building I was in were three pieces of framed beauties. In each frame was a Da Vinci sketch of a flying machine, mechanisms, and even a human arm, and next to each was a photograph of a section the Mars Rover that was similar to said sketch. Art inspires science, and science inspires art.
Who would you want to take a science workshop with? Stephen Hawking , Neil deGrasse Tyson, or Bill Nye?
All three and many more. Mister Hawking, Mister Tyson and Mister Nye each have my respect and each have something different to offer and educate us with. I would also like to meet Doctor Michio Kaku, and if I could go back in time I would love to have learned from Cecilia Payne. If you have not heard of Cecilia Payne, please research her. She was actually the first human who "discovered" what the Universe is made of.
By the way, did any of you ever watch Beakman's World on TV? Badabing, badabang, badaboom!
Artist - Dan Almanzar
If you were on the cover of Popular Science, what would your Headline read?
"Tattooed woman makes our brains explode with epic knowledge!"
Just kidding!
I'd like to answer this but in complete honesty, I've been working on something that will probably royally piss off the entire religious community of the world. So you'll see it one day; that I can guarantee. I mean no disrespect to people and what they believe in, (religion, politics, etc.) but I feel it's high time for higher thinking and less distractions so the human population can excel.
You call yourself a HUGE dork. Describe a few of your dorkiest attributes.
I've been called a huge dork/geek/brainer/nerd my whole life, I don't care which label I'm pegged with but if it's something that attributes to my brains and my silliness… I'll take it. I just don't care of opinions of me, there's no real perfect human. Every person will have a naysayer. I have an odd sense of humour and I enjoy things like science, nature, books, music and silly things. I go with what I like and I have respect for people. Whether I personally agree with them or not. I don't know which attributes of mine are dorky because I really don't know what I would call dorky in another person. If you're into something and it makes you happy, go for it.
Artist - Kelly Castillo
Is there anything else you want people to know about you that you don't think they can initially observe?
To an occasional observer, I'm sure I don't look like a person who is compassionate and loving, or really shy. Like I said, I have respect for people even if I do or do not agree with them. To each their own, but I wish others would have that same philosophy too. I don't put up with people talking poorly of others, and I will not spend my time with those who do. I do not put up with cruel people like that, or those who spread rumors or constantly speak ignorantly, those whom are racist or full of prejudice. Unacceptable behavior in my opinion, and quite immature.
Have any final words you'd like to conclude with?
Don't be an asshole and love life! Get outside and enjoy time away from technology once in a while!
Want to see more of Ivy D'Muerta?
Join her Fan Page and Follow her Tumblr and Twitter
------------------------------------------------------------------
Photographs Amy Kaplan Interview Casey Kwock
-------------------------------------------------------------------
Do you like the new interview feature? Let us know by leaving a comment here or on our Chapter fan page.
RSS
NYC Events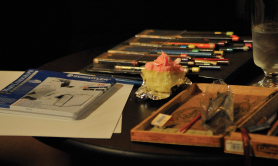 Art Tumblr
Dr Sketchy's LA 12/3/13 (pt. 1)
artofach.blogspot.com
http://drsketchy.tumblr.com/post/69132640329