Sat, March 03, 2012 • Dr. Sketchy's - Asheville presents "Morphia The Dream Queen"
Scandalous life drawing returns April 5th with burlesque vixen, Cherry Oh! The gorgeous and statuesque Ms. Oh! is Asheville's gift to classic burlesque. As a member of the highly acclaimed Bootstraps Burlesque and with her current troupe, Blue Skies Burlesque, Cherry's old school glam and evocative performances leave audiences mesmerized.
The April session will feature Cherry as 'Morphia, The Dream Queen...'
"Swathed in stardust, Sandman's lover glides down from the moon. With one umbrella tucked under each arm she makes her nightly rounds bringing either the most brilliant of visions or deep slumber without dreaming."
Join headmistress Queen April Thursday, April 5th at Eleven on Grove for all the debauchery and silly fun!
Music provided by Reverend Jude!
Session starts promptly at 7pm! (doors at 6:30)
$10 gets you in! ($7 for students w/ID)
Bring your own art supplies! Contests will happen!
RSS
NYC Events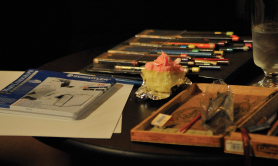 Art Tumblr
Sister Mary Willow
Dr Sketchy's Auckland 03/12/13
http://nomadshotline.tumblr.com/
http://drsketchy.tumblr.com/post/68974877262