Branch Blog - Baltimore, MD
Wed, July 04, 2012 • Dr. Sketchy's Baltimore this Monday, July 9th, with Cherokee Rose!
Monday, July 9 is the next session of Dr. Sketchy's Baltimore with Cherokee Rose!
Burlesque performer Cherokee Rose recently moved to DC from the Chicago area and has been busy performing with several Sketchy's favorites, including GiGi Holliday, Reverend Valentine, and Candy del Rio. I don't know how familiar you are with the world of burlesque, but her rap sheet reads like a freaking Christmas list. Just a couple of highlights from her extensive résumé: She was part of Michelle L'amour's Chicago Starlets when they won Best Group at the 2010 Best of Burlesque competition in Vegas and, more recently, she won Most Classic at the 2012 Boston Burlesque Exposition.
Goodness gracious. We are SPOILING you.
If you think it's going to last, it won't. This run of luck can't last forever. Sooner or later, we're just going to say "fuck it" and have Russell pose seventeen sessions in a row. IT COULD HAPPEN.
What if this is your last chance to draw a model of this caliber? I've been bugging Alexis to do an all puppet Dr. Sketchy's for years. What if she slips in the shower, hits her head, and decides to give free reign to my Jager-infused madness? We could literally be a session away from a never-ending string of Punch & Judy shows, enraged circus elephants, and boxes full of chipmunks for you to draw.
Did I mention Cherokee Rose is going to perform for you as well?
So . . . Monday. Hopefully your power will be back on. Even if it's not, a fresh sketch pad, Cherokee Rose, a cold drink (maybe 3), and good friends will fix that shit right up.
Doors at 6, start at 7. 18+ to draw, 21+ to drink. There'll be great prizes from Atomic Books and Baby Tattoo Books. Show up early to get a good seat.
No photography or messy paints, please (watercolors are fine).
Tickets are $10 at the door.
Like our page for the latest updates.
Photo of Cherokee Rose by Luke Anthony Photography
RSS
NYC Events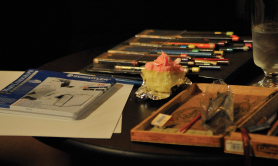 Art Tumblr
Dr Sketchy's LA 12/3/13 (pt. 1)
artofach.blogspot.com
http://drsketchy.tumblr.com/post/69132640329