Branch Blog - Baltimore, MD
Sun, September 30, 2012 • Dr. Sketchy's Baltimore with Cherokee Rose, July 20, 2012
This was Cherokee Rose's first session posing for Dr. Sketchy's Baltimore, though not her first for Dr. Sketchy's. She certainly knew what she was doing.
Understandably, new folks always make us nervous. What if they get lost coming to the Windup? What if they're a robot built by a rival Dr. Sketchy's branch intent on a hostile takeover? What if the model doesn't even exist and we're being pranked by a T-Rex with an internet connection and someone willing to type for it?
It can be stressful.
Cherokee was amazing – at no point did she transform into a boombox and try to steal our energon cubes nor did anyone get eaten. Just a whole lot of Super Sexy.
We had a bunch of drawing contests, with one lucky winner getting the latest issue of Retro Lovely from Atomic Books, another getting Autumn's Come Undone by Shag from Baby Tattoo Books, and two poor souls getting some mystery concoction from Russell behind the bar.
Thank you to Craig Hankin, Kat Parker, Fred Oakes, Hallsi Rose Killian, Jennifer A Stark, John Schloman, and Tim Kelly, who all sent in drawings, which you can see in the gallery below. Super duper thanks to Cherokee Rose for being our muse that evening; thanks to our sponsors Atomic Books and Baby Tattoo Books; thanks to Russell for slinging booze and tunes; thanks to Jeff for the photos you see above; thanks to Styger for helping me shove furniture around and run the door; and thanks to Alexis for holding the mic down.
Click here and scroll down to see the photos.
RSS
NYC Events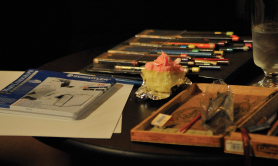 Art Tumblr
Dr Sketchy's LA 12/3/13 (pt. 1)
artofach.blogspot.com
http://drsketchy.tumblr.com/post/69132640329