Branch Blog - Dr. Sketchy's HQ
Mon, August 01, 2011 • Dr. Sketchy's director Aliza Shapiro needs our help!
Dearest Sketchy friends and fans,
We have the most unfortunate news. Aliza Shapiro,
Dr. Sketchy's Boston
principal & long-time friend was admitted last week to the hospital with a stroke following a cerebral hemmorage. While she's currently receiving the best of care, it's going to be a long and challenging road back to full recovery. As a self-employed event producer, artist, and activist in the Boston music and queer arts communities for over 15 years, Aliza has neither employer benefits nor deep resources to support her during this rehabilitation time.
Aliza's Brain Trust
has been established as a way to help support her by raising money for her treatment and expenses during her recovery, as well as fostering the amazing community connections Aliza has created and is a vital part of. Please help support Aliza in whatever way possible, either by donating to her medical fund, leaving her a note of love and support or just sharing the site so she can hopefully receive more funds.
RSS
NYC Events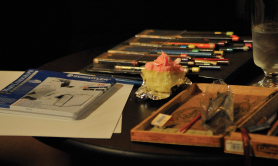 Art Tumblr
Alvin Black III
Frosty's going to melt…at Jingle Belle, Dr Sketchy Chicago Branch
Model: Rhonda Vous

my work on facebook: https://www.facebook.com/AlvinthethirdPainting
http://drsketchy.tumblr.com/post/70620589200