Branch Blog - New York, NY
Thu, May 17, 2012 • Dr. Sketchy's Documentary: Now Available Online!
You remember 2 years ago, when the Dr. Sketchy's documentary was released? It then did its rounds at film festivals that you were too lazy to attend. Fortunately, now you need go no further than your own computer to see the Dr. Sketchy's crew from four years ago and a short sampling of our zany misadventures. I give you Dr. Sketchy's Anti-Art School on vimeo!
RSS
NYC Events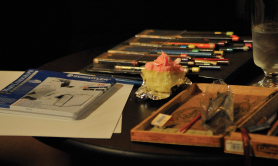 Art Tumblr
Dr Sketchy's LA 12/3/13 (pt. 1)
artofach.blogspot.com
http://drsketchy.tumblr.com/post/69132640329