Branch Blog - San Jose, CA
Mon, August 22, 2011 • Dr. Sketchys featuring Black Lotus Clothing & Bad Charlotte Aug. 25th
Dr. Sketchy's Anti-Art School is proud to partner with the fabulous indie fashion designer Christina Molcillo owner of
Black Lotus Clothing
. They rocked the stage at the 2011 SubZERO Festival with a fashion show and modeled for the Dr. Sketchy tent. Join Master of Ceremonies Drew Clark and the alluring model Bad Charlotte for this special session of Victorian inspired garments created by Black Lotus Clothing. Thursday, August 25th 7pm-10pm $10 / door Show up early with your art supplies, as seating is limited. All skill levels welcome and encouraged! Facebook event page:
https://www.facebook.com/event.php?eid=262987613719660
Anno Domini Gallery 366 South First Street San Jose
http://www.galleryAD.com/
408-821-5785 Photo: Red Rum collaboration. Make up: Alicia Campbell.
RSS
NYC Events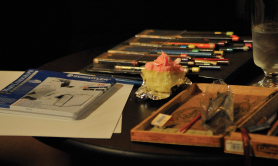 Art Tumblr
Dr Sketchy's LA 12/3/13 (pt. 1)
artofach.blogspot.com
http://drsketchy.tumblr.com/post/69132640329