Branch Blog - San Jose, CA
Sat, February 12, 2011 • DR. SKETCHY'S Feb. 24th featuring Postal Servix
It is a fool's folly to assume that women are, by nature, delicate and submissive creatures, susceptible to pain and shy regarding confrontation. We here are at Dr. Sketchy's Anti-Art School, in our mission to explore the artistic vagaries of mayhem, wish to present to you a specimen that contradicts such notions:
Postal Servix of the Silicon Valley Roller Girls
. Bring your black & green (& maybe some red) for our up close live figure drawing session!
7pm sharp /General admission $10.00 / Students $8 at the door.
Come early as seating is limited! Bring your sketchy pads and favorite drawing materials. Anno Domini 366 South First St. San Jose, CA
www.galleryAD.com
Silicon Valley Roller Girls (SVRG) is an all-female flat track roller derby league established in 2007 and represents what is known as Silicon Valley, California. SVRG aims to bring an additional exciting sport to the communities of Silicon Valley and allows women from all walks of life a chance to show their athleticism, intelligence, individuality, inner beauty and strength by participating in the subculture phenomenon of roller derby. SVRG is entirely skater-owned and run. Its dedicated members represent Silicon Valley's mothers, professionals and students. SVRG encourages competition between other leagues and strives to represent Silicon Valley with sportsmanship and excitement. "We aim to empower our skaters to not only build their skating ability through challenging training and teamwork but also to be involved the operation of the league. We also dedicate ourselves and our efforts to reaching out and bettering the Silicon Valley by participating in community service."
www.svrollergirls.com
RSS
NYC Events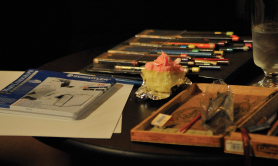 Art Tumblr
Sister Mary Willow
Dr Sketchy's Auckland 03/12/13
http://nomadshotline.tumblr.com/
http://drsketchy.tumblr.com/post/68974877262