Branch Blog - Amsterdam, The Netherlands
Mon, July 11, 2011 • Dr. Sketchy's in Amsterdam!
Hello world! It's about time Dr. Sketchy's hit Amsterdam, and now it's finally gonna happen! Amsterdam has had a lively Burlesque scene for years now, headed by Marco 'Charley' Buschman, who works hard to organize venues and models to provide the sensationally-inclined with great parties under the title Burlesque FreakOut! Comic artist Margreet de Heer first found out about Dr. Sketchy's through a UK-based colleague, who attended a session in Middlesborough. Looking around in Amsterdam for opportunities to start something similar, she soon found Marco and together, they are head of the new Dr. Sketchy's branch now. Margreet has lots of contacts in the comics scene and works at the famous comics store Lambiek, which will be sponsor of Dr. Sketchy's Amsterdam, together with burlesque phenomenon Madame Risquée. The launch party will take place on Friday, September 16th, from 18.00 - 21.00. There will be a great burlesque party afterwards. The venue is Club 8, Admiraal de Ruijterweg 56b, Amsterdam, The Netherlands.
RSS
NYC Events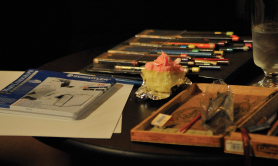 Art Tumblr
https://vimeo.com/81362468