Branch Blog - Dr. Sketchy's HQ
Wed, September 08, 2010 • Dr. Sketchy's Is Hiring a Sponsorship Coordinator!
Dr. Sketchy's Anti Art School is Hiring!
About us: Dr. Sketchy's Anti-Art School is the world's premier life drawing movement. At Dr. Sketchy's, artists gather to draw glamorous underground performers in an atmosphere of irreverent camaraderie. Started in New York in 2005, Dr. Sketchy's now has over a hundred chapters around the world, from Akron to Zagreb. We have produced events for brands such as Dos Equis, and for major museums such as the Museum of Modern Art, The Brooklyn Museum, The Philadelphia Museum of Art and the Sydney Museum of Contemporary Art. We've been the recipient of hundreds of media profiles, including in the NY Times, The LA Times, Playboy, NPR, and The Sunday Times in London. You can find out more about us at
http://www.drsketchy.com
We're looking for: A freelance sponsorship coordinator who can facilitate partnerships between Dr. Sketchy's and brands. These might take the form of a financial sponsorship, or of Dr. Sketchy's producing events for the brand. We're particularly interested in creative partnerships with edgy lifestyle brands (think Hendricks Gin, Agent Provocateur) and art/tech brands (think Wacom, HP).
You should:
Be familiar with Dr. Sketchy's Anti-Art School. Dr. Sketchy's is not your typical art event. It is glamorous, subversive, irreverent, and hires scantily clad models to pose in venues with that frequently serve alcohol. You should be comfortable- nay, enthusiastic, about these things. Be pleasant, articulate, extremely organized and professional, with excellent email and in-person skills. Be communicative and able to give progress reports, with an ability to work unsupervised. Live in New York City Be a creative thinker who can envision unconventional, out of the box partnerships and carve new opportunities for Dr. Sketchy's. You should be intensely practical about doing extraordinary things Be comfortable and experienced working with and approaching major brands. Be conversant with and passionate about alternative culture, the art scene, and the internet. You should have a computer and a high speed Internet connection, and enjoy malingering on gchat. Have a can-do attitude Keep your word
We're offering:
15% commission for any financial sponsorships arranged on behalf of Dr. Sketchy's Anti-Art School 20% of the profit of any corporate event arranged for Dr. Sketchy's $500 a month stipend after a one-month trial period
Perks:
Besides the financial compensation, Dr. Sketchy's offers a number of perks. These include free swag, free art, free books, copious hookups with interesting gigs, dinners with artstars and underground royalty, free drinks, guestlists to fun and sometimes illicit and secret events, couches to sleep on from Taiwan to Tasmania, and hellacious amounts of fun. Dr. Sketchy's is also a chance to see how a shoe-string, DIY endeavor can take over the globe, and to make your mark and wield considerable influence in a small but passionate and world-renowned company
Interested? Email us at

[email protected]

with a biography and summery of your experience (both with coordinating sponsorships and with other examples of getting impressive things done). Also send us a link to your Facebook, Twitter and website.
Look forward to hearing from you!
RSS
NYC Events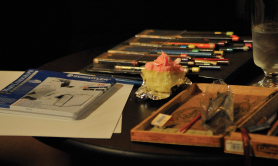 Art Tumblr
https://vimeo.com/81362468