Branch Blog - Dr. Sketchy's HQ
Mon, December 20, 2010 • Dr. Sketchy's Newest Sponsor: What Katie Did
Hey Dr. Sketchy's fans! Vintage style lingerie company, What Katie Did is the newest sponsor for Dr. Sketchy's branches!
Check out your local, US branch to win gorgeous seamed stockings at your next event! If you can't wait that long, visit
their website
today and order up one of their gorgeous and glamorous corsets, garter belts, stockings and more for the holidays! We
LOVE
their products and are so thankful for their sponsorship of our branches! Please check them out today!
Shown:
Tempest corse
t,
Harlow garter belt
,
Retro seamed stockings
RSS
NYC Events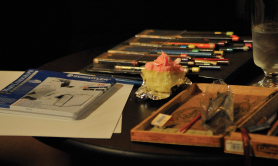 Art Tumblr
Dr Sketchy LA 12-3-13
http://drsketchy.tumblr.com/post/69027079376