Branch Blog - Richmond, VA
Mon, October 08, 2012 • Dr. Sketchy's RVA Presents: A Pirates Life feat. Deanna Marie!
Yaaarrrrggghhhh! Shiver me timbers we have a sexy scallywag of a pirate wench taking the models stand at Dr. Sketchy's RVA! This month we are featuring professional model and photographer, Deanna Marie in "A Pirates Life"!
AAAAANNNNND.....because drawing a model is one thing, but drawing a model while dressed up as a pirate too brings a whole other level of fun to this Anti-Art School drawing club! We're happy to have The Red Vein Army, Virginia's premier haunt enthusiasts & haunted event promoters/produce
rs to help us administer A PIRATE COSTUME CONTEST! Don your Davy Jones' best, and come out for 3 hours of cabaret figure drawing on the high seas!
Double the Deanna's this month as Dr. Sketchy's headmistress Deanna Danger hosts her name sister from the East, Deanna Marie! *Deanna Marie* is a professional pinup & alternative model who travels the globe posing for and working behind the camera! Deanna is also a fire performer, and we'll get a breath of fiery fresh air from her during one of our session breaks outside!
Join Richmond's notorious figure drawing club on Wednesday October 17th from 6-9pm at Strange Matter (929 W. Grace St., RVA). Admission is only $7, or $5 w/ student ID or dressed in pirate garb! Seating has been filling up quick in our sessions, be sure to get there early to get a good spot!
As always, one free Dr. Sketchy pass given away as a door prize! Our prize sponsors this month are Baby Tattoo Books, The Red Vein Army and Deanna Danger Productions! Draw to win yourself a pair of tickets to "Gypsies! Tramps! Thieves!" at the Carnival of 5 Fires 2012 at Gallery 5 on 10/19, creepy Halloween schwag from Ryan & Bryan of the Red Vein Army, or a beautifully illustrated keepsake book!
Get those pencils sharpened Richmond, we'll see you there!
http://www.babytattoo.com
http://www.deannadanger.com
http://www.strangematterrva.com
http://www.redveinarmy.com
http://www.onestoppinup.com
RSS
NYC Events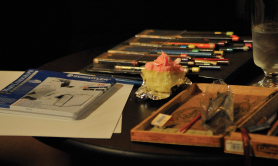 Art Tumblr
https://vimeo.com/81362468