Branch Blog - Richmond, VA
Tue, August 09, 2011 • Dr. Sketchy's RVA Presents: Cherrie "the AMAZON" Canary!
Look out! Cherrie "the Amazon" Canary is swooping down from out of the jungle lofts to land on a models stand near you! This month at Dr. Sketchy's RVA, we have Richmond burlesque producer & performer, the lovely, Cherrie Canary for your drawing pleasure! She will be coming as an Amazonian Princess! Will she show you mercy? Or will she obliterate your entire tribe? Only time will tell!!!..... Join us for 3 hours of cabaret figure ...drawing with Richmond's Premier drawing club, Dr. Sketchy's! Wednesday, August 17th at Strange Matter (929 W. Grace St., RVA), from 6-9pm. Admission is only $7 (or $5 w/ student ID)! Hosted by headmistress, Deanna Danger! Our prize sponsors this month are Baby Tattoo Books, Voix De Ville Follies, and Wild Heaven Farm Soaps! Draw to win yourself a sweet pinup cut-out doll book, a pair of tickets to 'Voix De Ville Follies presents "Saturday Morning Cartoons!"' burlesque show, a hand crafted goats milk soap, or an appetizer hot from the kitchen! Plus, enter in our door prize contest to win a free pass to any Dr. Sketchy's session! Get those pencils sharpened Richmond, we'll see you there!
http://www.drsketchy.com
http://www.drsketchy.com/branch/R​ichmond
http://www.babytattoo.com
http://www.deannadanger.com
http://www.strangematterrva.com
http://www.voixdevillerva.com
http://www.vagoatsoap.com
RSS
NYC Events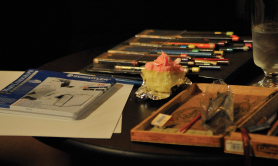 Art Tumblr