Branch Blog - Richmond, VA
Tue, January 25, 2011 • Dr. Sketchy's RVA Presents: Chiara Scuro as Princess Nuala
Dr. Sketchy's RVA is proud to bring you amazing cosplay artist, Chiara Scuro to the models stand this month! Chiara is one of the east coasts predominate cosplay models AND costumer! Her gorgeous and intricate rendition of the Princess Nuala character from Hellboy is all her own creation! She will be modeling 3 different looks for your drawing pleasure February 12th at the Camel (1621 W. Broad St., Richmond, VA)! Join your hostess with the mostest, Deanna Danger,... from 2-5pm for drinks, drawing, and fun contests! Our sponsors this month are Baby Tattoo Books, Deanna Danger Designs, and Virginia Comicon! Only $7 admission, or get $2 off with your student ID! Don't forget to add us on facebook to keep up with all our goings on, see more model photos, and scans of session drawings from our local art monkeys!
http://www.facebook.com/drsketchysrva
Photo by Judy Stephens.
RSS
NYC Events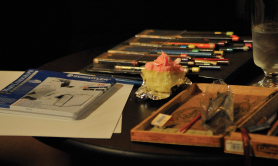 Art Tumblr
https://vimeo.com/81362468