Branch Blog - Richmond, VA
Thu, November 08, 2012 • Dr. Sketchy's RVA Presents: Hungry For Fashion
Tis the season of buying, shopping, spending, and EATING! We are consumers, we consume. We eat it all up. We even drink all the milkshakes. Dr. Sketchy's RVA this month brings you a special model and theme to satiate your hunger for drawing....and meat dresses.
Dr. Sketchy's RVA Presents: Hungry For Fashion!
Featuring Norfolk based cosplay model and fashion designer, Tenshi no Itami! This supremely talented lady will be portraying world famous pop icon, LADY GAGA, in not just one of her iconic fashion statements, but THREE....of course including the infamous meat dress from her appearance at the VMA's.
Join Headmistress & hostess Deanna Danger on Wednesday November 14th from 6-9pm at Strange Matter (929 W. Grace St., RVA). Admission is only $7, or $5 w/ student ID! Seating has been filling up quick in our sessions, be sure to get there early to get a good spot!
As always, one free Dr. Sketchy pass given away as a door prize! Our prize sponsors this month are Baby Tattoo Books, Deanna Danger Productions, and Vaudeville Galore! Draw to win yourself a pair of tickets to "Cheeky Monkey Sideshow" at Gallery 5 on 11/17, a pair of tickets to "Byrlesque At The Byrd" on 12/2 at the Byrd Theatre in Carytown, or a beautifully illustrated keepsake book!
Get those pencils sharpened Richmond, we'll see you there!
Photo courtesy Judith Stephens, http://www.chohoview.com
http://www.babytattoo.com
http://www.deannadanger.com
http://www.strangematterrva.com
RSS
NYC Events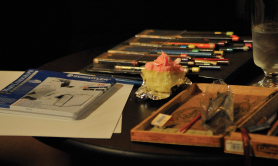 Art Tumblr
https://vimeo.com/81362468