Branch Blog - Richmond, VA
Wed, July 13, 2011 • Dr. Sketchy's RVA Presents: Mail Order To Go-Go!
Please Mister Postman, won't you deliver us a letter? Or how about a super hot burlesque babe instead? Dr. Sketchy's RVA Presents, Mail Order To Go-Go featuring rising Richmond starlet, Indy Go-Go as our featured model! Miss Go-Go has sent herself through the mail, and she shall be delivered straight to you, Wednesday, July 20th at our new home, Strange Matter (929 W. Grace St.). Pinup poses, a fully stuffed mail box, and an outfit made of mail envelopes is waiting for you art monkeys! Don't be late for this special delivery, the drawing begins at 6pm sharp, and goes until 9pm. And we won't overcharge you for Express shipping! Only $7 admission, or $5 if you have your student ID! This event will be hosted by your Dr. Sketchy's RVA headmistress, Deanna Danger! Our prize sponsors this month are Baby Tattoo Books, Voix De Ville Follies, and Strange Matter! Draw to win yourself a sweet pinup cut-out doll book, a pair of tickets to "We Love the 80's" burlesque show, or an appetizer hot from the kitchen! Plus, enter in our door prize contest to win a free pass to any Dr. Sketchy's session! Get those pencils sharpened Richmond, we'll see you there!
RSS
NYC Events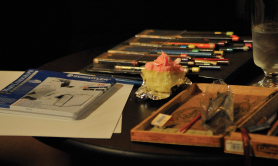 Art Tumblr
Dr Sketchy's LA 12/3/13 (pt. 1)
artofach.blogspot.com
http://drsketchy.tumblr.com/post/69132640329