Branch Blog - Richmond, VA
Mon, January 09, 2012 • Dr. Sketchy's RVA Presents: Rising Valhalla
Dr. Sketchy RVA's THIRD YEAR ANNIVERSARY session!
We want to first thank all our fans, artists, models, sponsors and venues for keeping us going for 3 years this month!!! And we're excited to bring you another year full to the brim of beautiful models, unique themes, and... fabulous prizes! Starting off with.....
The beautiful and exotic, Kamikaze Keiko as a supreme viking warrioress in RISING VALHALLA!
Miss Keiko is one of Richmond's beautiful burlesque starlets, and when she isn't shakin' and takin' it off on stage, she's busy crafting the best and most "metal" soaps known to man! She is the creator of Nouveau Riche Soaps! And with her soap line "Blood Bathory"...we knew this theme would be just perfect for your doom metal drawing fantasies!!!
You *might* even get a surprise guest model for some epic battle drawing scenes...someone who hasn't been on the Dr. Sketchy's modeling stage for quite sometime (though you see her every month anyway...).....catch the hint art monkeys???...Yup....our headmistress Deanna Danger will be polishing and sharpening her swords for this one!
Join us for 3 hours of cabaret figure drawing with Richmond's Premier figure drawing club, Dr. Sketchy's! Wednesday, January 18th at Strange Matter (929 W. Grace St., RVA), from 6-9pm. Admission is only $7 (or $5 w/ student ID)! Hosted by headmistress, Deanna Danger!
As always, one free Dr. Sketchy pass given away as a door prize! Plus, win a tri-pack of Nouveau Riche Soap's metal soaps (includes "Black Mass," "Ritual Sacrifice," and "Trial By Fire"), a pair of tickets to the Debut of Vaudeville Galore on 1/21 at Gallery 5, or a book from our national sponsor, Baby Tattoo Books!
Get those pencils sharpened Richmond, we'll see you there!
http://www.drsketchy.com/branch/Richmond
http://www.babytattoo.com
http://www.nouveaurichesoap.etsy.com
http://www.deannadanger.com
http://www.strangematterrva.com
Photo by Time Machine Photoworks
RSS
NYC Events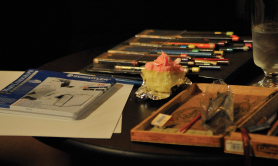 Art Tumblr