Branch Blog - Richmond, VA
Tue, September 13, 2011 • Dr. Sketchy's RVA Presents: Shiva & Kali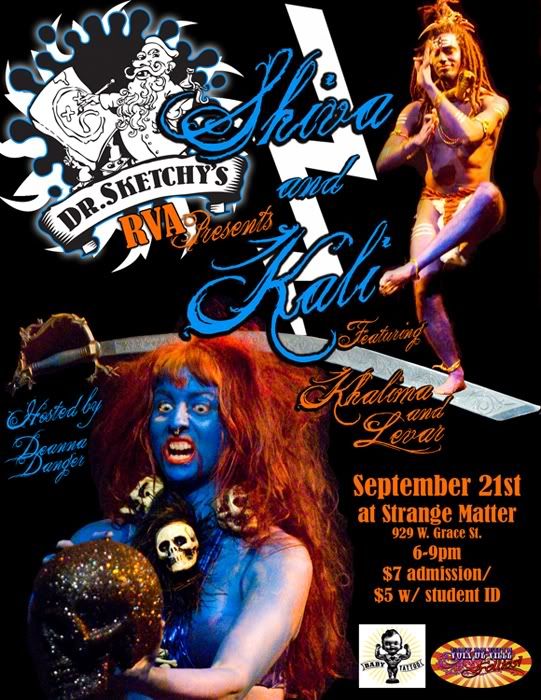 Wednesday September 21st, Dr. Sketchy's RVA is proud to bring you, SHIVA & KALI! Featuring two of Richmond's top performers, Khalima and LeVar, together known as Sekhemti! Khalima is one of Richmond's most notable bellydancers, and LeVar is your sometimes boylesque'ing, always bendy, dancing Yogi. The pair are donning their most epic of costumed persona's for this month's drawing session. Together they will bend, manipulate, sc...are, intimidate, and leave you drawing on for days! Tons of details to draw on these costumes folks, and with how in tune these two are with their bodies, we can only imagine the crazy awesome poses they will strike for us together! Join us for 3 hours of cabaret figure drawing with Richmond's Premier drawing club, Dr. Sketchy's! Wednesday, September 21st at Strange Matter (929 W. Grace St., RVA), from 6-9pm. Admission is only $7 (or $5 w/ student ID)! Hosted by headmistress, Deanna Danger! Our prize sponsors this month are Baby Tattoo Books, Voix De Ville Follies, and Nouveau Riche Soap! Draw to win yourself a sweet pinup cut-out doll book, a pair of tickets to 'Voix De Ville Follies presents Cirque Extravaganza!"' burlesque show, a hand crafted bar of Blue Ribbon PBR soap, or an appetizer hot from the kitchen! Plus, enter in our door prize contest to win a free pass to any Dr. Sketchy's session! Get those pencils sharpened Richmond, we'll see you there!
http://www.babytattoo.com
http://www.deannadanger.com
http://www.strangematterrva.com
http://www.voixdevillerva.com
http://khalimadance.com/
RSS
NYC Events
Art Tumblr
15 minute pose. 
Dr. Sketchy's Las Vegas.  5-16-2013
http://drsketchy.tumblr.com/post/50664789096