Branch Blog - Richmond, VA
Thu, November 10, 2011 • Dr. Sketchy's RVA Presents: The Black Cat
You guys asked for more comic book themes...and we deliver!
Dr. Sketchy's RVA Presents "The Black Cat" featuring model April LeQueen!
Our second out of town model hails from the mountain city of Asheville, North Carolina. There Miss LeQueen performs and produces burlesque shows, and does as much fetish/alternative/goth modeling as she can! This gorgeous lady will be bringing to life one of Marvel's sexiest characters, The Black Cat!
Join us for 3 hours of cabaret figure drawing with Richmond's Premier drawing club, Dr. Sketchy's! Wednesday, November 16th at Strange Matter (929 W. Grace St., RVA), from 6-9pm. Admission is only $7 (or $5 w/ student ID)! Hosted by headmistress, Deanna Danger!
Our prize sponsors this month are Voix De Ville Follies and Baby Tattoo Books. Draw to win at all our sessions!
Get those pencils sharpened Richmond, we'll see you there!
http://www.drsketchy.com
http://www.drsketchy.com/branch/Richmond
http://www.babytattoo.com
http://www.voixdevillerva.com
http://www.deannadanger.com
http://www.strangematterrva.com
RSS
NYC Events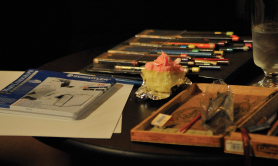 Art Tumblr
https://vimeo.com/81362468