Branch Blog - St. Petersburg, FL
Mon, May 28, 2012 • Dr. Sketchy's St. Pete Geeks Out with Tokyo Belle
Star Trek and Star Wars in the same evening?! You'd better bring your Santraginean Mineral Water – we don't want you fainting and missing out on this full-on geek spectacular. Dr. Sketchy's Anti-Art School St. Pete is crossing the streams and mixing our genres as geek goddess Tokyo Belle takes us on a spacey-wacey journey through more franchises than you can shake a lightsaber at.
Plus: Drinking! Drawing! Contests! Prizes!
Thursday, June 14
8-11pm, Doors at 7:30 - Don't be late!

At The Sake Bomb, 548 Central Avenue, Saint Petersburg, FL 33701

21 & up
Admission is $10 at the door.
Bring your sketchpads and drawing implements – all skill levels welcome!
Our fantastic sponsors this month include Star Booty, Pale Horse Design, and Joe Rocks Art. For more information on becoming a sponsor, email [email protected].
Flyer art by Katie Hazzard
Facebook event page (RSVPs appreciated):
http://www.facebook.com/events/422460497784349/
Like us on Facebook for the latest updates:
http://www.facebook.com/DrSketchyStPete
And follow us on Twitter:
@DrSketchyStPete
RSS
NYC Events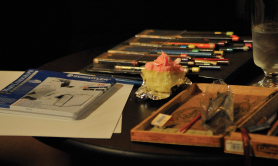 Art Tumblr
The results of tonight's Dr Sketchy's session :D
http://drsketchy.tumblr.com/post/69489605480