Branch Blog - Dr. Sketchy's HQ
Sat, February 26, 2011 • Dr. Sketchy's Tribute to Transmetropolitan this Sunday!
We at the NYC branch of Dr. Sketchy's are so excited to celebrate Warren Ellis & Darick Robertson's amazing comic, Transmetropolitan tomorrow!
Featuring two stunning models, adult performers Jiz Lee and Ryan Keely as Spider Jerusalem and Channon Yarrow!
The event is in celebration of the successful funding of the CBLDF's Transmetropolitan art book! We will also be featuring a contest where your work from the session can be featured in the upcoming publication! Bring your finest tools, and your finest supplies. The best three images of the night, as so judged by your Sketchy team of rockstars, will be given the opportunity to be printed in the Transmetropolitan Art Book. Once chosen, you will have until midnight on the following day (Monday the 28th) to refine, perfect and scan your image to be emailed to our art director for inclusion in the book. Best of luck, and have a great time! More information will be made available at the session so be sure to get there early to grab your seat! Dr. Sketchy's takes place at The Bowery Poetry Club, 308 Bowery in Manhattan. The session runs from 4-6:45pm. $12 in advance, $15 at the door - order your ticket at
http://www.drsketchy.com/branch/newyork
.
RSS
NYC Events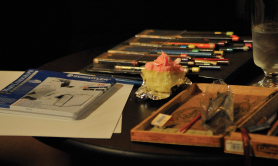 Art Tumblr
Dr Sketchy LA 12-3-13
http://drsketchy.tumblr.com/post/69027079376