Branch Blog - Dr. Sketchy's HQ
Tue, December 21, 2010 • Dr. Sketchy's turns FIVE!
NYC videographer
Keith Jensen
put together this beautiful and fantastic video, celebrating the past year of Dr. Sketchy's. From flash mobs to Art Stars to the expansion of Sketchy's from Mexico to Croatia, we've had an amazing year thanks to all of YOU! Enjoy!
RSS
NYC Events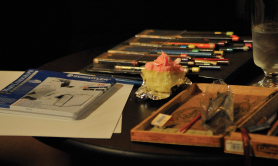 Art Tumblr
The results of tonight's Dr Sketchy's session :D
http://drsketchy.tumblr.com/post/69489605480