Branch Blog - New Haven, CT
Thu, September 13, 2012 • Dr. Sketchy's Welcomes A New Headmistress!
Big things are in the making this fall as Dr. Sketchy's New Haven welcomes Dot Mitzvah as its newest Headmistress!
Dot comes to us as a veteran model, compère, helper monkey, and all-around great gal with plans to bring Dr. Sketchy's New Haven to a whole different level!
Stay tuned for new adventures!
RSS
NYC Events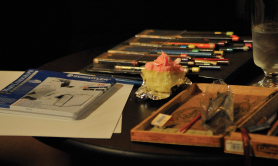 Art Tumblr
Dr Sketchy LA 12-3-13
http://drsketchy.tumblr.com/post/69027079376